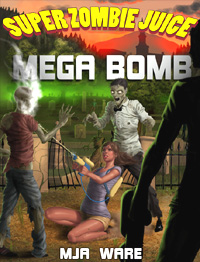 Today's post is by MJ Ware, Author of Super Zombie Juice Mega Bomb. Thanks, MJ for helping promote my blog. Lady D.
Even before publishing Super Zombie Juice Mega Bomb (SZJMB), I wrote a lot of horror stories. However, since I write almost exclusively for kids and teens my stories aren't anything like your traditional, terrifying, horror stories. They're more blood and snot than blood and guts. With that in mind, I've compiled a list of great books to wake up your inner child, or maybe your inner young adult, this Halloween season.
The Forest of Hands and Teeth by Carrie Ryan – I'm starting off with this one because, as a YA book it will appeal to more adults, plus it has zombies! Mary lives in the woods as part of a community surrounded by a fence that (usually) keeps the undead out. This one is really more of a romance novel with zombies. Still, it has great imagery which really makes it spooky.
The Witches by Roald Dahl – This book is definitely a kid's book, but it's so well written, anyone who loves books will enjoy it. And, compared to most of Dahl's other books, it's pretty dark; in fact it's one of the 100 most banned children's books on account of the violence.
Halloween Tree by Ray Bradbury – It doesn't get any more Halloween than this. It's a great story about a gang of guys (and one girl) who run into a haunted house while trick-or-treating. After you finish the book, check out the Emmy award winning cartoon version:
Coraline by Neil Gaiman – Gaiman is a master of scary books and Coraline is one of his best. Even if you've seen the movie, don't skip the book. It's a quick read at 35k (and it's one of those books that's hard to put down). Once you're finished, you might want to check out Gaiman's more adult themed The Grave Yard Book.
Something Wicked This Way Comes by Ray Bradbury – Okay, Bradbury is one of my favorite authors, so he's allowed two books on the list. Something Wicked This Way Comes, is much darker than The Halloween Tree, having deeper and more serious themes. It was published as an adult book, but really, it's a coming of age story that resonates with young and old alike.
Welcome to Horrorland by R.L. Stine – What list of scary books would be complete without something from the Goosebumps series? Obviously, this one's light reading and only for readers who enjoy kidlit. With its fast action and short chapters it's also a great choice for that reluctant reader in your life.
M.J.A. Ware, known as M.J. to his friends, lives in the foothills of the Sierra Mountains with his wife and two daughters. He wrote Super Zombie Juice Mega Bomb because he felt there was a need for a zombie book with a broader appeal than just hard-core horror fans. A book that would not only appeal to both adults and teens, but would be teen safe.
When not writing about aliens, monsters and ghosts, he runs a company where he designs award winning video arcades. He's currently polishing his latest novel, Girls Bite, a paranormal vampire story told from a guy's perspective.
Find SZJMB at:
Amazon
(print and ebook)
Barnes & Noble
SmashWords
Apple
Win a Free ebook copy SZJMB. Enter by 10/31. Winner chosen at random and will be announced on or around 11/1.
Note from Lady D: If you like guest posts, comment here on the blog. I'll try to arrange more such posts according to the feedback I receive from you readers. Commenting is welcome and, at the moment, unmoderated.